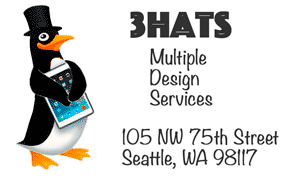 This page shows examples of projects that might be a little out of the regular web and graphic designer box, but this is 3Hats after all.


---
Posters, Book Covers, CD Jackets

I've designed numerous posters, CD jackets and a few book covers. I can provide larger image examples to anyone who is interested if you will email a request along with information about your specific project.

Decorative Architectural Glass

At one time I had an architectural glass studio called Chrysalis, in Redmond, WA. We did decorative glass for the commercial and residential building industry in the Seattle area. I still enjoy an occasional glass design project. The image at left is from the Camas, WA Woodbine Elementary School. I did this design a few months ago in cooperation with Moon Shadow Glass of Sandy, OR. The project consists of two walls separating the library space from a two-story stairwell. We printed exaggerated maple leaves on the laminated glass with embellishments of surface sandblasting. Please visit the

Moon Shadow website

to read the story and see more photos.
Music Composition

For many years - another hat, another lifetime - I was in the music business. It's a tiring story but it left me with a lot of experience in recording studios. I left the business just as the tape machines and analog technology was being replaced with computerized recorders and mixing boards. Now, years later, I recently discovered just how far the digital recording world has progressed. I purchased the very affordable and capable Logic Pro X by Apple. Here is a link to

recent compositions

I've completed. It's a soundtrack for photos I took at Chaco Canyon in New Mexico, which also demonstrates another creative service I offer: slideshows.
© Marlin Greene / 3Hats Design - all rights reserved